The right time to water houseplants
Ways to water your house plants
Tips on how to water your plants correctly
Golden rules of watering for plants to thrive
All plants need water. Knowing when and how to water potted plants is one of the most effective and easiest ways to ensure your plants thrive in your home. One of the most common mistakes made by new plant parents is overwatering their plants aka death by H2O.
Learning how to water houseplants is one of the most significant tasks to avoid problems like dried-out leaves or root rot. Improper watering stresses houseplants.
Here is a detailed guide about watering your plants for a healthy and thriving plant.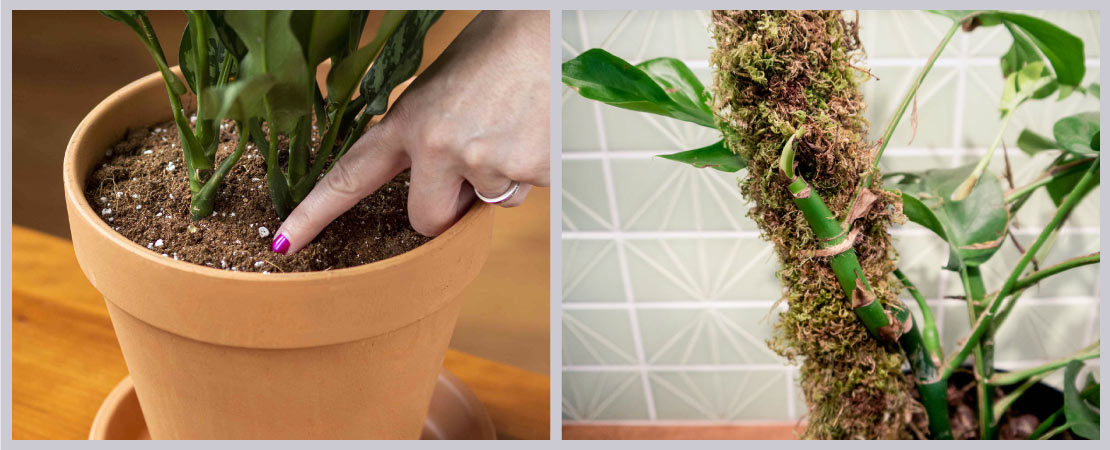 Most indoor plants soil should be kept evenly moist at all times. In normal conditions, most plants will require water twice a week during the growing seasons (spring and summer) and once a week during the resting seasons (autumn and winter).
Most indoor plants prefer moist compost in spring and summer when they are in growth, but be careful not to water too much, as waterlogged compost causes disease and can be fatal. To prevent wet compost, keep your plants in pots with drainage holes at the bottom, so that any excess water can be drained out, and tip away any surplus that is sitting in the plant's saucer about an hour after watering.
A good way to check when to water indoor plants is when the soil is dry, or the top inch of the soil is dry. To do this, put your finger about an inch into the soil mix. If it feels dry, your houseplant needs water. We would suggest you to check if you see any wilting leaves, but sometimes, wilting leaves can be a sign of overwatering, specifically mushy leaves. If the leaves are turning brown and crunchy, it is time to water your houseplants.
It is advisable to let heavy chlorinated water stand in a pan overnight before watering your plants. Also, never use water that has been softened by a water softener because it contains too much sodium.
We would suggest that you make it a habit to check on your houseplants at least once a week. You can also create a watering schedule if you have a lot of plants. This will remind you when to water them. Another piece of advice is to water your indoor plants in the morning because the morning sun will dry out any splashes on the leaves.
The amount of water a plant needs is also influenced by the type of pot used. Small pots and plastic pots dry out faster than large pots or clay ones. Furthermore, plants that are supplied with artificial heat require additional water.
Some species require a moss-covered pole to climb. These species send out aerial roots that attach to the pole to obtain water and nutrients. Keep the moss stick wet and pour a bit of diluted commercial fertilizer over it when you feed the plant.
Ways to water your Indoor Plants
There are various ways to water plants. The selection depends on the plant and also on the gardener's convenience. Mainly there are two ways: "Watering from above" and "watering from below."
To ensure proper growth of plants always check the water requirement for plants and use the appropriate method for watering them:
It is the most common watering technique, and most indoor plants are watered this way. Water is poured from above over the foliage or at the base depending on the plant. Most of the tropical plants and ferns will not have a problem if the foliage gets wet. Some plants are more prone to fungal infections, so it is always safe to prefer watering at the base, from the soil level of the plant without wetting the foliage. Make sure that the compost is also soaked or you risk watering the leaves without any moisture reaching roots.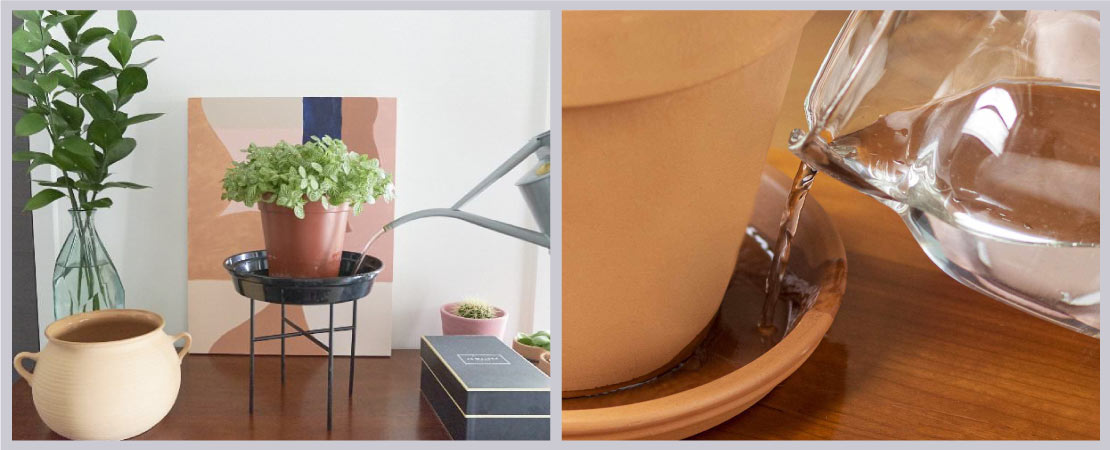 This method of watering is most suitable for plants that don't like wet foliage and stems or plants having foliage covering the compost. Get a tray large enough to fit in the container and fill it with water to around 2 cm. Place the pot over this tray and leave it for 20 minutes before bringing the pot to its original spot. Make sure that the pot has drainage holes at the bottom.
Watering from below is the best option. Although watering from above is still the common way people water their plants, watering from underneath is more homogeneous, less prone to overwatering and there is no concern of draining nutrients out. Additionally, you can be sure that the water does actually get to the roots. There are 3 techniques to water your plant from below: Use a saucer, soak your plants and Self-watering pots.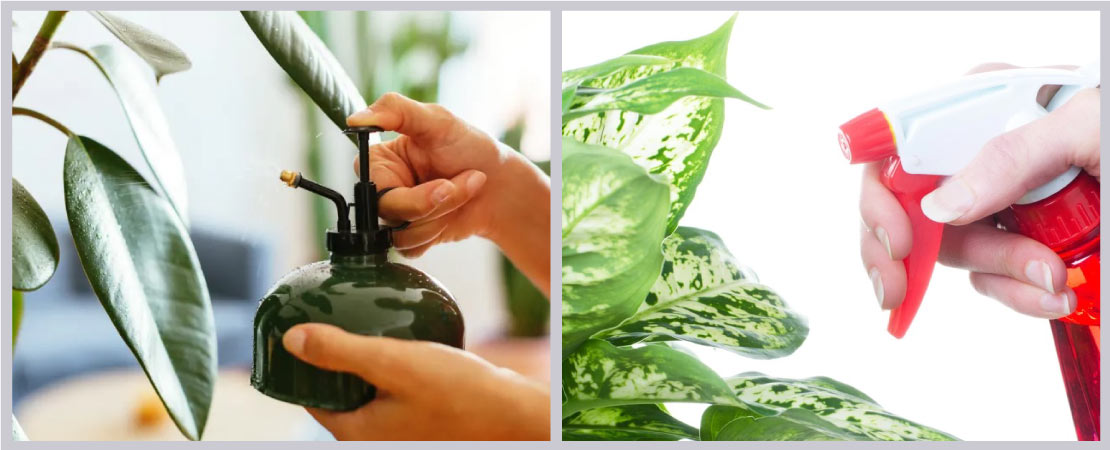 Misting indoor plants is a simple and effective way to boost humidity. It is also an easy solution to the risk of overwatering your plants. Some plants absorb moisture through their leaves and aerial roots. Examples include orchids, areca palms etc. Mist the leaves and roots regularly and also water the compost to keep them healthy.
d) Water in the centre of the plant
The leaves and bracts of most bromeliads – such as the silver vase plant and Amazonia Zebra Plant – form a cup-like reservoir in the centre of the plant. Bromeliads have an unusual leaf formation, allowing them to absorb water that collects in the central reservoir. Keep this reservoir recharged, and periodically flush it out to stop the water from becoming stagnant. You will still need to water the roots as you would with other house plants. Fill this up with rainwater or distilled water, refill it every few weeks. Also, water the compost so that it is moist.
Air plants are best immersed in a tray of rainwater or distilled water for an hour once a week. After soaking, leave them to drain, and make sure they dry fully within 3-4 hours to prevent them from rotting. Alternatively, mist them 2–3 times a week.
Tips on watering your plants correctly
The Plant's Pot Matters: To keep your houseplants healthy, make sure that they are in the correct pot size because most plants you buy come in grower's pots, which is not appropriate in the long run. It will eventually inhibit their growth, make it difficult to water them properly, and houseplants become more susceptible to disease.
Plants Have Different Water Needs: Understanding your plant's unique needs and preferences is important before you start watering them. For complete watering instructions for each of your plants, check out more info in our Plant page for all your plant care needs.
Water thoroughly and evenly: Water thoroughly and evenly, which means you must water around the planter until water drips out of the bottom.
Dump out any excess water: Discard any excess water to avoid soggy soil, which causes root rot. Keep in mind that houseplants don't like their roots to be kept wet because it can attract diseases and pests.
Golden rules of watering for plants to thrive
Watering is essential for plant growth – but one that can too often go wrong. Here are the golden rules of watering to follow for your plants to thrive.
Avoid Waterlogging: Keep plants in pots with drainage holes to prevent waterlogging. Water logging represses the breathing air of the roots out of the soil – the root cells drown without oxygen.
During spring and summer: Water most plants every 2–4 days (or depending on requirement) in spring and summer to keep the compost, moist.
Frequency of watering: Water desert cacti and succulents less frequently only when the top of the compost is dry. Additional tip for these plants is that as they like their leaves and stems to remain dry at all times, so add a layer of grit on top of the compost if repotting. It helps water to quickly drain away, preventing them from rotting.
Water less in the winter: Reduce frequency of watering in winter when plant growth is slower and temperatures are lower.
Removal of excess water: Tip out excess water from pot sleeves and saucers to prevent overly saturated compost. Leaving your potted plants in standing water can deprive them of oxygen and promote root rot. Additionally, emptying saucers after top watering prevents your plants from taking up the salts you remove during top watering. Empty your planter saucers within 30-60 minutes after watering to ensure plenty of drainages and to protect the roots from standing in excess water.
Do not water directly on the Leaves
Avoid giving water on the leaves and stems of plants with soft, furry foliage, or succulents and cacti.
Watering on leaves can clog the leaf's stomata which disrupt osmosis and plant respiration.
Water will splash around your home.
This can attract pests and diseases.
Type of water: Do check to see if your plant prefers rainwater or distilled water rather than straight from the tap. Most tap water should be fine for your indoor plants unless it is softened because it has salts that can build up in the soil over time and eventually cause problems. Chlorinated water is also safe for most indoor plants, but if you have a filtration system, that is even better for your plants. Another option is collecting rainwater to use.
Learning how to water houseplants in a correct way will not only bring you one step closer to being a great plant parent, but it can also help you avoid problems such as root rot. It will require some time to master this skill, but the more you do it, the better you will get at being a plant parent.
Grow knowledge about your green friend. Check out our blogs to learn more about different houseplants and tips on how to keep your plants alive and healthy.
Reference links used:
1. – Practical Houseplant Book (RHS, Fran Bailey & Zia Allaway)