Air Quality Index (AQI) is a measurement of the quality of ambient air we breathe in our surrounding environment. Different countries have different quality indices. These indices measure the air quality in the country. There are 6 categories of AQI, India, namely, namely Good, Satisfactory, Moderately polluted, Poor, Very Poor, and Severe.
These categories are decided on the basis of the following:
Ambient Concentration values of air pollutants
Their likely impact on health (known as health breakpoints)
As the air quality deteriorates, so does the ranking of air from good to bad then very poor to severe as follows:


AQI Pollutants' Constituents
AQI, India is evolved and broken down into 8 pollutants, namely, PM 2.5 (Particulate Matter 2.5), PM 10 (Particulate Matter 10), O3 (Ozone), NO2 (Nitrogen Dioxide), SO2 (Sulfur Dioxide), CO (Carbon Monoxide), NH3 (Ammonia) & Pb (Lead). These are the key air pollutants with proven negative health effects beyond specified parameters, though there are other harmful pollutants in the air.
India's National Air Quality Index was launched on September 17, 2014 in New Delhi under the Swachh Bharat Abhiyan by the then, Environment Minister Shri Prakash Javadekar. It converts complex air quality data of various pollutants/contaminants into a single number which is called index value and checks whether the amount of these pollutants in the air exceed the criteria set or not. Breakeven points for AQI Scale is (0-500) as follows.


AQI Categories & their Harmful Health Effects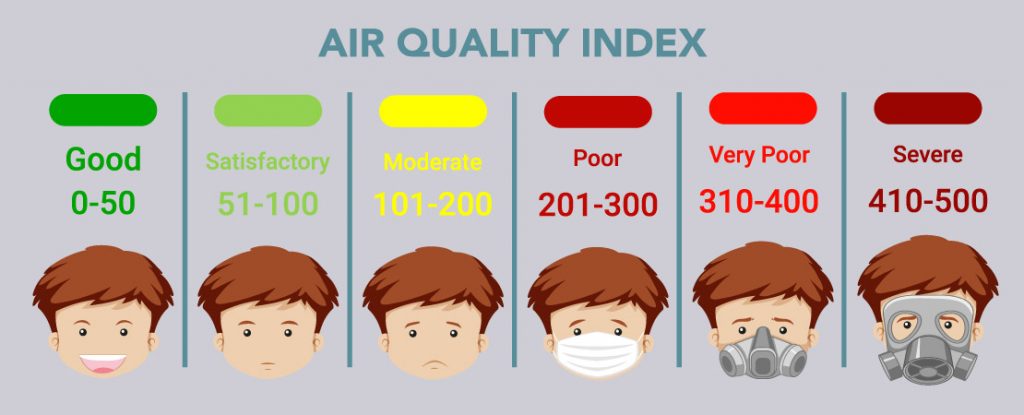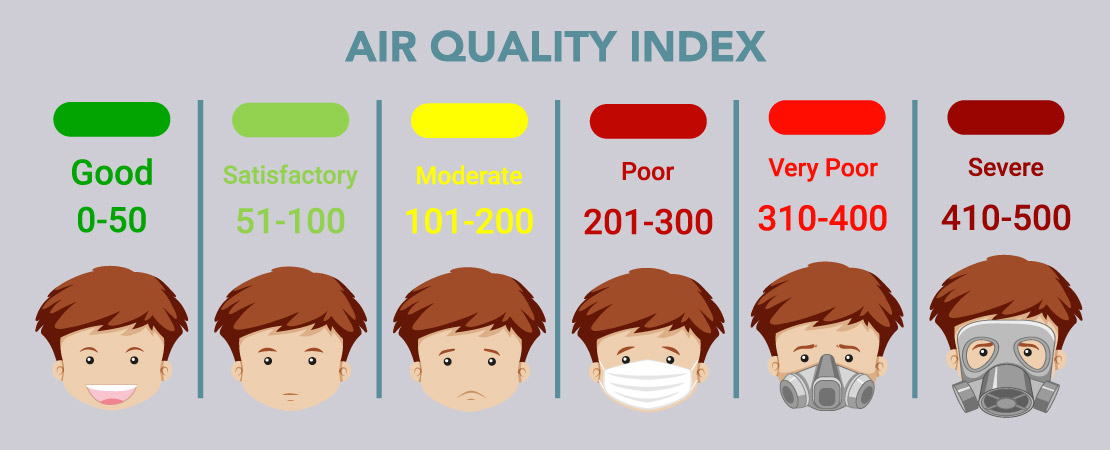 The six Air Quality Index categories based on air quality & their adverse health impacts are:
Good: Minimal Effect.
Satisfactory: May cause minor breathing discomfort to sensitive people.
Moderately Polluted: May cause breathing discomfort to people with living diseases such as asthma and discomfort to people with heart disease.
Poor: May cause breathing discomfort to people on prolonged exposure, and discomfort to people with heart disease.
Very Poor: May cause respiratory illness to the people on prolonged exposure. Effects may be more pronounced in people with lung and heart disease.
Severe: May cause respiratory impact even on healthy people with lung/heart disease. The health impacts may be experienced even during light physical activity.
Air Quality affects our health constantly, which is why it should be given paramount importance. When the level of these particles rises in the air, they cause various acute health issues. That is why it is very important to understand the phenomenon of Air Quality Index. While is it not easy to control air pollution, you can limit your exposure to it.