Air quality means the suitability of the air for breathing by humans and animals. A person inhales about approx 14,000 litres of air every day. Hence, adverse / poor quality of air will affect the quality of life. Overall, it will affect our posterity affecting the health, the environment, the economy, infact the liveability of the locality / city. Good ambient (outdoor) air quality is basic to our good health and well-being. Therefore, violation of the right to healthy environment is potentially a violation of the basic right to life (NAAQS).
Why Air Quality is important?
Clean air is the basic necessity when it comes to healthy living for mankind. The quality of air influences how you live and breathe. Like the weather, it can vary from day to day or even hour to hour.
Nowadays, poor air quality is one of the main causes of several acute health diseases. It is vital to know the air quality of locality, city, and nation to assess its impact on the health of the citizens.
Air quality is a measure of how polluted the air is. It is important to monitor air quality because polluted air can be bad for our health as well as the health of the environment.
What is Air Quality Index?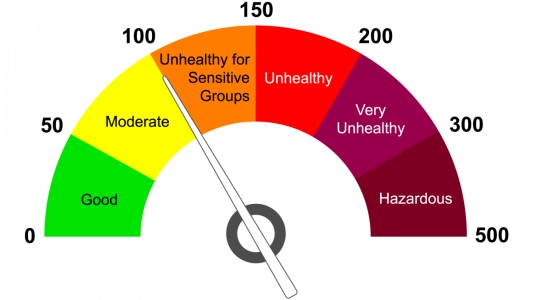 Air quality is measured with the Air Quality Index (AQI). It works sort of like a thermometer that runs from 0 to 500 degrees. The AQI is a way of showing changes in the amount of air pollution instead of showing variation in the temperature.
It is an index for reporting air quality on a daily basis. It tells us how clean or unhealthy/ polluted your air is, and what associated health effects might be a concern. The index focuses on health effects that may be experienced within a few hours or days after gasping unhealthy air.
It serves two main purposes:
To aware the public about air quality in a comprehensible manner so that they may take action to protect their health
To help countries develop and assess policies for improving air quality