Selection of the right pot helps in keeping our indoor plants healthy. A Good plant container should have a good drainage system and needs repotting every few years avoid root congestion and root bound.
Plant pots serve a more important function than just being a plant-holding container and using the right one makes the difference between a healthy houseplant and one that is struggling.
What Pots to use for house plants:
There is a wide range of choices in pot materials, sizes, styles, and what you use depends on the plant's moisture preferences and size. Generally, you can use clay and unglazed ceramic pots for drought-tolerant plants preferring fast-draining soil. Use plastic, metal or glazed ceramic for plants that require a moist environment.
The most important thing about pots for indoor plants is that you understand the impact your choice has on the growing conditions for your plant.
Different types of Pots for your houseplants
To ensure you select the best pot for the indoor plant you are planning to grow in it, it is always best to familiarize yourself with the plant's preferred conditions and characteristics first. This helps in choosing the best material, size, and style to ensure problem-free and proper growth.
Let us go through pot materials first, the advantages and disadvantages of each type, and how they impact conditions for your plants.
I. Common materials used for making Indoor Plant pots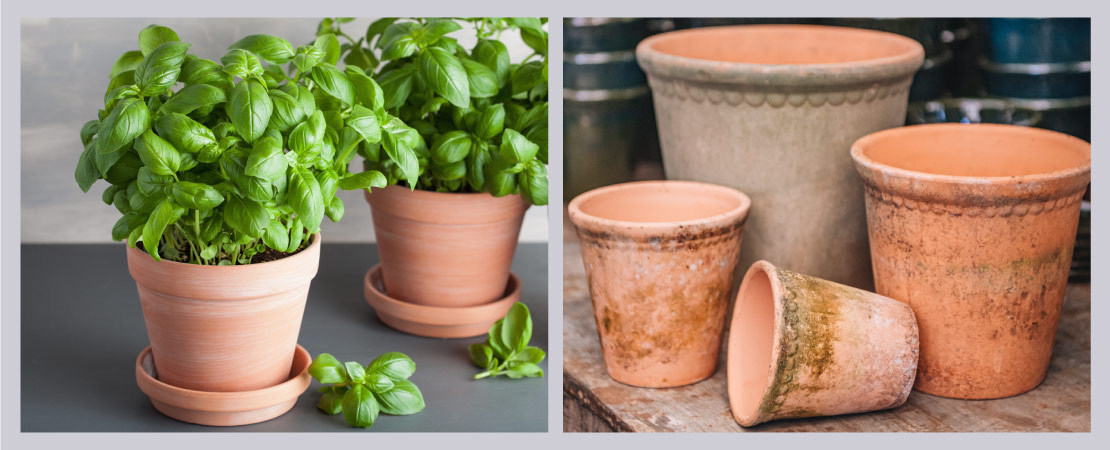 Several different clay-based materials are used for planting pots. The term Terracotta means "baked earth" in Italian, generally refers to an unglazed, somewhat porous ceramic made from clay. These are the familiar reddish-brown clay pots that are popular as planting containers. Some terracotta pot has a glazed surface on the inside.
Advantages:
Terracotta pots are classic planting pots, with a neutral and warm color that makes any plant look great.
Come in a wide range of sizes from few inches to those that accommodate larger plants.
The cost of these pots range from inexpensive to expensive.
Good choice for plants that prefer drier & well-drained soil.
Disadvantages:
Soil dries out faster in unlined terracotta pots so plants need to be watered more often than those planted in non-porous pots.
Terra cotta pots filled with soil, especially larger ones can be heavy and hard to move. The material is brittle and breaks easily if it is dropped or damaged.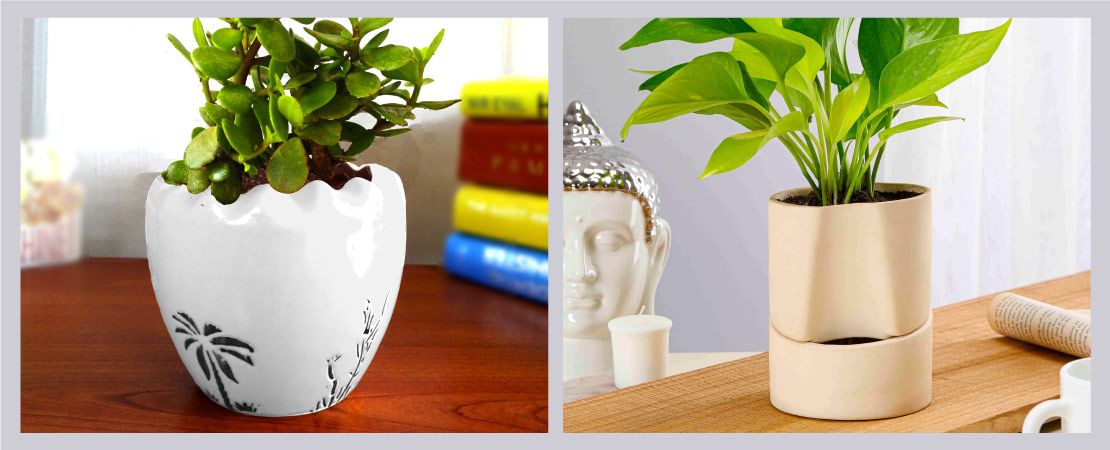 In Comparison to terracotta pots, ceramic pots are manufactured from earthen materials that are less porous and denser. The pots are glazed on both theoutside and inside.
Advantages:
Have a wide range of sizes, colours and styles, with some elaborately decorated.
Are more durable than terracotta pots and don't break as easily & are long- lasting.
The soil in ceramic pots does not dry as quickly as in terra cotta.
Choice for plants that prefer more consistently moist conditions.
Pots are heavy and stable, and less likely to get damaged easily.
Disadvantages:
Alike terracotta, larger ceramic pots filled with soil can be heavy to move.
Ceramic pots, especially large ones can come with a substantial price.
Some pots might not have bottom drain holes, leading to the possibility of soil remaining too saturated. You may have to drill a hole in the bottom of the pot.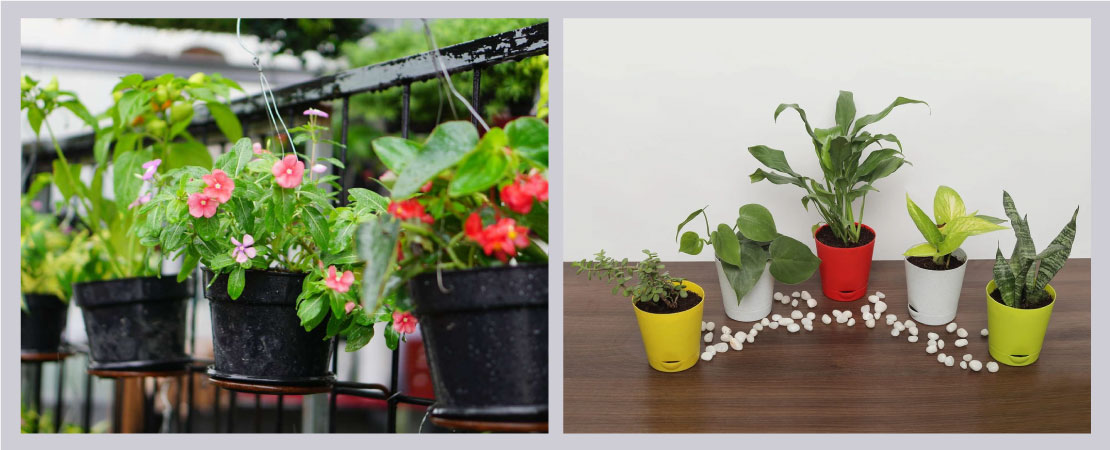 Plastic as a material for plant pots is uniquely diverse. Some plastic pots are extremely attractive and high-end, while other plastic containers are cheap. Plastic pots for indoor plants offer an almost endless selection in colours and styles and can be attractive plant partners highlighting their beauty, as well as complimenting indoor decor.
Advantages:
Plastic pots are least expensive of all the pot materials.
These pots are lightweight and not as heavy as ceramic or terra cotta.
No material is more diverse than plastic; hundreds of options when choosing plastic pots.
Plastic pots are resilient to damage. They may resist cracking, even when dropped.
Soil stays moist for a longer time.
A suitable choice for plants that require a bit moister conditions.
Disadvantages:
Cheaply made plastic pots left out in the sun can lose their vibrant color, turn brittle and they may crack when they get old.
Since plastic pots are not porous, overwatering can create soil conditions that are too saturated and possibly cause health problems for the plant.
Be careful, if growing edibles in plastic pots. Some studies show that some plastics can leach chemicals into the soil, particularly if left in the sun.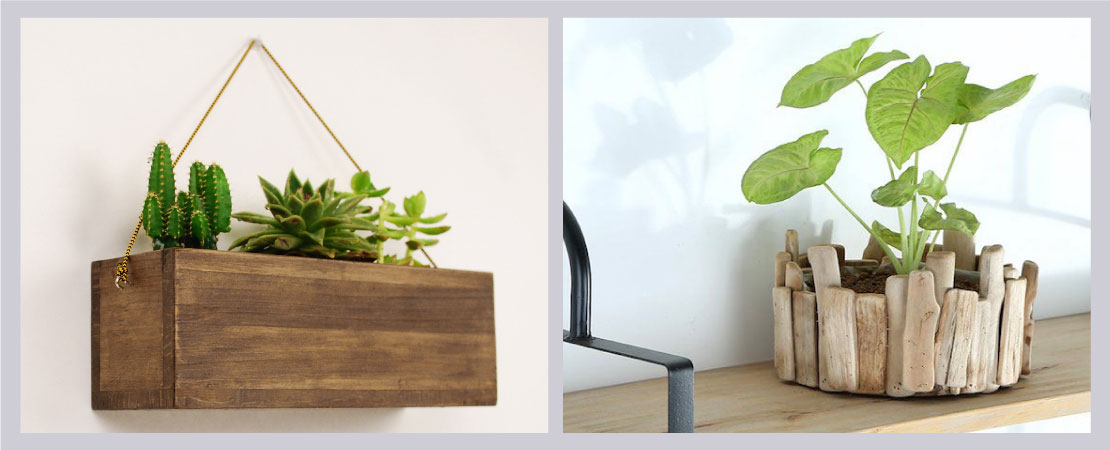 Wood is a natural building material that is attractive when used in planting pots and containers. Styles range from super modern to traditional, and sizes are equally varied.If you need a custom-size container to fit a specific area or need it to match a colour, it may be the least expensive and easiest choice.When manufactured properly from long-lasting woods, these pots will last for years.
Advantages:
Constructing wooden containers for plants is a relatively easy DIY project, requiring ordinary tools and materials.
Wooden containers can be considerably less expensive than high-end terracotta or ceramic pots.
Wooden pots can be made out of various recycled materials like wooden boxes, crates, baskets or bark.
Disadvantages:
If not cared for properly, a wooden container may decay in just a year or more. To avoid decay, the soil should be removed when storing the pot for the winter.
Wooden containers require high maintenance, as the wood needs to be resealed periodically in order to prolong the life of the pot.
Depending on whether the pot's wood is sealed, containers can be porous and the soil will dry quicker.
More likely to leak, so it is better you should use a good drip tray when using wooden pots or planters indoors.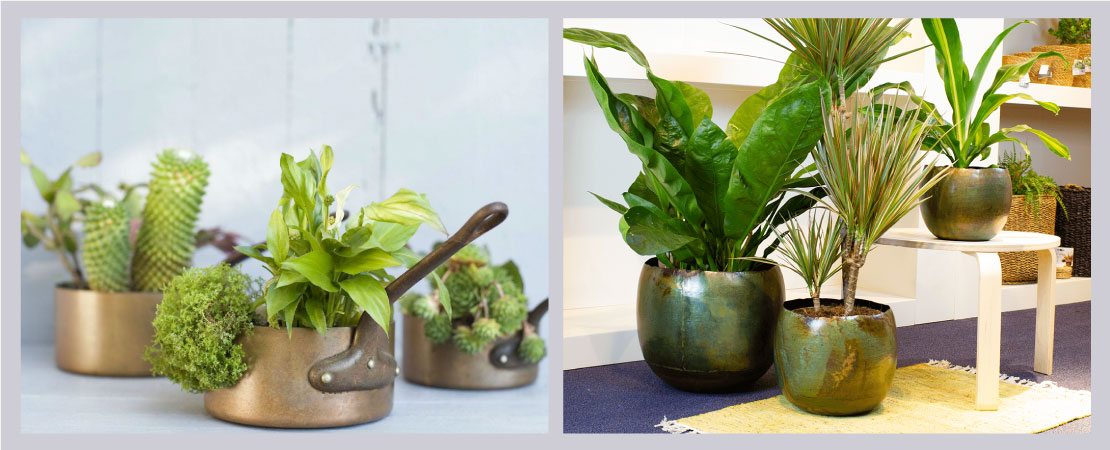 Metal pots for indoor plants offer a unique look and can add to the beauty of the plant they hold. No matter your design style, you can always find a metal container that compliments it.Painted, brushed, or shiny metal surfaces can e used.
Advantages:
Unusual choices that create a unique look and often serve as accent pieces.
Many old metal items are available that can be repurposed as planting containers.
Metal containers used indoors are durable and long-lasting.
You can find metal containers in different sizes and styles.
Disadvantages:
Depending on the various type of metal, some metal containers can rust.
Larger containers made out of a metal like iron can be heavy to move once filled with soil.
Majority of solid metal containers require drain holes installed on the bottom side.
If placed in a hot &sunny location, container can heat the soil making it dry out fast.
Metal is not porous so the soil stays moist for a longer duration which can be problematic if you have a tendency to overwater.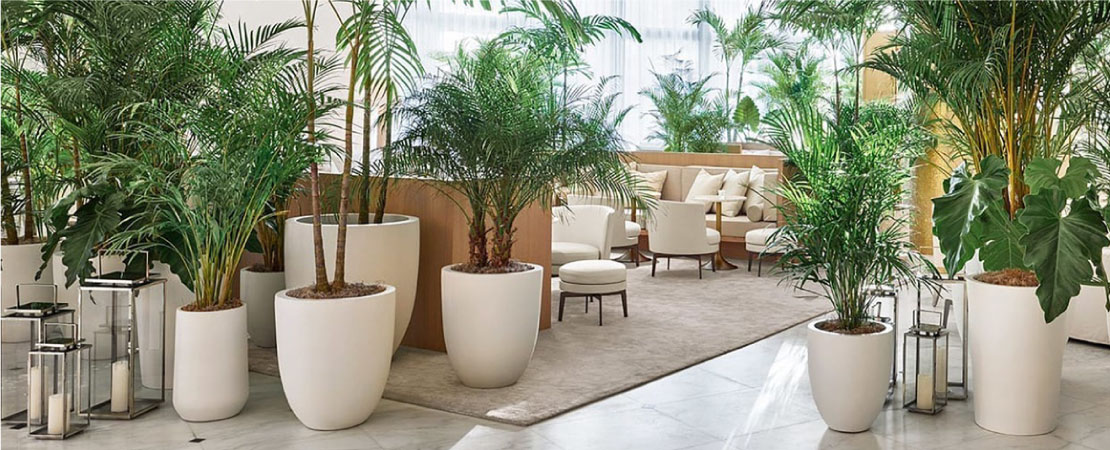 It is often mistaken for plastic because they are equally lightweight, fiberglass planting pots are also synthetic, but rather than being made of molded plastic, they are formed from fiberglass fibers mixed with resins that are formed into different shapes.
Advantages:
These can be elegant planting containers, hence suitable for designer gardens.
Fiberglass is a much lighter material than other materials like clay or ceramics.
These pots are very durable. Unlike clay, which gradually breaks down under weather, fiberglass pots can last for a longer time.
It is non-porous, hence holds soil moisture for longer.
Disadvantages:
There are not low-priced containers, their costs can be nearly that of high-end ceramic pots.
The fiberglass fibers can wear and torn over time, giving the pots a ragged appearance. Harsh power washing can also deteriorate them.
It is more brittle than plastic pots.
II. Choosing right pot size
The size of a plant pot compared to the specific indoor plant's size is hugely important.The size of the pot can make the difference between a vigorous plant and one that is in critical condition.
Using pots for houseplants that are small, compared to the size of the plant means that the soil is going to dry out much quicker after being watered. This can be a good thing for drought-tolerant plants but will make it more difficult to manage a plant that needs consistently moist soil. The plant could become root-bound and exhibit little growth.
Large pots are useful when growing houseplants that are tall and will become too top-heavy to keep them from tipping over, possibly breaking the pot, damaging the plant.
Larger pots for indoor plants can be used if you are creating a container garden and planting multiple different types of plants together. The larger soil area allows each plant to develop a proper root system.
If you have a habit to overwater, the excess soil in large pots will remain wet for longer and can result in health problems such as root rot or other plant diseases.
Choose a pot that is wide and deep enough to fit the root ball, with some space around the edges, and at the top to allow for watering.
Use a pot that is one size larger (~1 to 2 inches) than current container where the plant is growing.
Make sure the selected pot has adequate of drainage holes to avoid waterlogged soil.
III. Significance Of Proper Drainage:
For the majority of indoor plants, growing in soil with good drainage is imperative for good health and problem-free growth.
When using containers that don't drain the soil and stay moist for longer periods because there is no place for the extra water to escape, can lead to saturated soil conditions, which many indoor plants cannot tolerate, especially for long periods.
When drainage holes are present and you thoroughly water the plant, it runs through the soil adding moisture and the leftover water drains through the bottom. This allows the root system to become watered, the soil stays moist, not saturated which results in proper growth of the plant.
Possible problems associated with non-draining pots include:
Root rot can happen that often leads to plant death.
Wet soil conditions encourage disease and pests.
Fertilizer salts cannot be flushed from the soil which result in foliage burns.
Saturated soil conditions reduce soil &root oxygenation essential for healthy root &plant growth.
Hence, avoid growing indoor plants in containers without drainage holes at all costs.
Apart from materials, pot size and drainage factor, you can also look at different pot styles like hanging baskets or pots, wall pots, stacking pots, glass containers, self-watering pots, etc.
Indoor plants are a living accessories for interior spaces, introducing texture and colour. They can infuse your home with warmth, soften transitions between spaces, serve as the focal point of a room and have other benefits. Pairing pots, plants and the right decor enhances health and makes plants vital for your home.
There are no perfect containers that would work well for all the plants. Each container is unique in itself, and has its own advantages & disadvantages.We hope this guide has given you an idea about best indoor plant pots for lighting up your living spaces.