Having a clean kitchen is not enough. A pollutant-free kitchen is what you need. Take a closer look- is your kitchen a source of indoor air pollution?
Be it a sudden craving for pasta in white sauce or a well-planned biriyani party on the weekend- it is seldom that we leave our kitchen alone. The sizzling of spices on hot oil, the shik-shak sound of sautéing- all these make up our kitchen, right? But while we prepare items to satisfy our tongue and tummy, do we ever bother what hazards we are also bringing in? Certainly not. But guess what, it is happening actually. While you breathe in the fresh spicy smell from the kitchen, many other hazardous pollutants also reach your lungs. Here we have for you all the possible details of how the kitchen can be a source of indoor air pollution and how you can get rid of it. Read on!
What Is Indoor Air Pollution, And Why Are We Talking About It?
Air pollution has hit us hard, but little do we know about indoor air pollution. We spend 90% of the day inside a room or enclosed space. It might be our home or office or the office cubicle. Our daily activities like cooking, smoking, using up fossil fuels, even the harmless use of room freshener may cause our indoor air to pollute. A major percentage of indoor air pollutants is added from kitchen appliances. Those pollutants do not only harm the indoor air but, in the long run, contribute to environmental air pollution too.
It is important to become aware of indoor air pollution because, unknowingly, we are causing harm to our health and our other family members.
How Is The Kitchen Responsible For Indoor Air Pollution?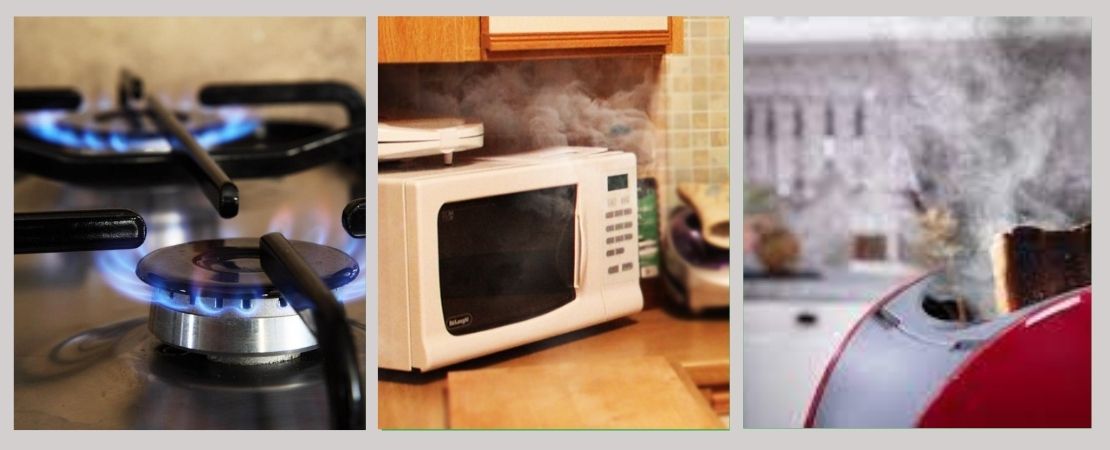 Several things that we use in our kitchen are a major source of harmful gases and pollutants. Let's see which are those –
Natural gas and propane are what the gas cylinders contain. So when we burn it to cook, it produces
formaldehyde
and carbon monoxide. Gone are the days when ladies of the home used coal or wood to light up the chulha. That was harmful too. Our adaptation to natural gas is not proving to be a lot better when it comes to indoor air pollution by adding harmful hydrocarbons, methane etc. Result? We'll come to that later. Hold on.
Be it a gas oven or electric oven, both equally emit air pollutants. These emit nitrogen dioxide, formaldehyde etc., along with CO2 to make the matter most. The higher the heat you use for cooking, the higher is the concentration of
formaldehyde
.
These are sources of nitrogen oxide, which is yet another hazardous pollutant.
Other appliance or utensils
Cooking in an open wok? Have a deep fryer in your kitchen and love to make French fries in it? Well, you are at higher risk of polluting the indoor air. This adds volatile organic compounds into the air and burns the dust accumulated on the surface. The smoke thus formed eventually turns into particulate matter.
You might be thinking – "Non-stick cookware is a safer option." No, they are not! Even non-stick cookware when heated beyond a certain temperature emits toxic fumes. So, go for traditional cookware made of iron or aluminium and follow the right cooking method to control kitchen-induced air pollution.
Poor Ventilation And Incomplete Combustion
If the pollutants formed from the cooking cannot get out of the kitchen, it circulates in there, reaches the rooms and aggravates the situation. Also, the kitchen stoves emit
methane
on incomplete combustion and is a greenhouse gas, and it brings more harm with it.
What Are The Effects On Human Health?
Not one, not two but a lot. In India, around 2% of adults and
6%
of children have asthma. The adversities that we may experience due to long exposure to indoor air pollution-induced by kitchen functions are listed below:
● Headache and nausea
● Shortness of breath
● Respiratory problems along with coughing, sneezing, congestion of the sinus etc
● Dry skin
● Irritation in eye, throat
● Increased risk of cardiac problems
● Hypersensitivity issues and allergies
● Weakness and fatigue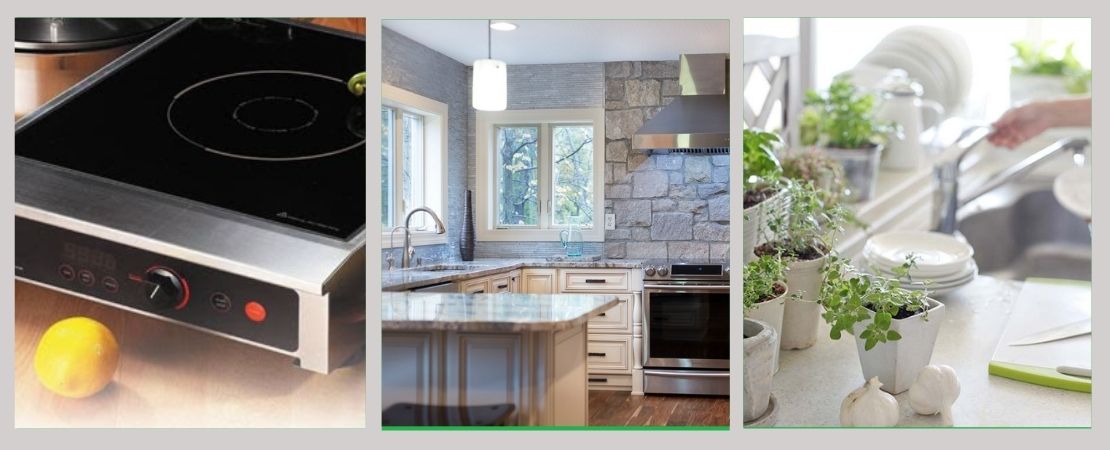 Don't worry; we are not going to say stop cooking. All you have to do is bring a few changes and ensure a few things are already there. Such as:
● Install electric stove or induction cooker instead of gas stove and also do a yearly servicing to confirm no leakage of carbon monoxide
● Arrange for proper ventilation. Open the kitchen window while cooking, put up an exhaust fan or, install a kitchen chimney so that the polluted air can make its way out.
● Make sure the burners are free from any food debris after you finish cooking.
● While buying kitchen equipment, look for the features claiming to be more environment- friendly.
● Add a few indoor plants to your kitchen windowsill or put some on your counter. You can either go for decorative plants or herbs as per your choice. Indoor plants will brighten up your kitchen and reduce pollution levels by taking in harmful carbon dioxide.
● Most importantly, install an air purifier. Bidding farewell to polluted air is not easier in any other way. HEPA air purifiers can come to your rescue while it gives you healthy, pure and pollutant- free air to breathe in.
We hope you now know a little more about how the kitchen is being the source of pollution in your home. Keep the kitchen safe and carry on with cooking healthily while not disturbing the indoor air. Lead a healthy life- that's all we want.