Indoor plants play an important role in providing a pleasant and peaceful environment in which to move, work or relax. Learn various benefits of having indoor plants in home & office.
Humidity is the amount of water vapor in the air.
Relative humidity
1
is the amount of water vapor present in air expressed as a percentage of how much it could hold at that temperature e.g., a relative humidity of 50% means the air is holding half of the water vapor it can hold. As temperatures go up or down, the capacity of the air to hold water changes.
What is the ideal Indoor Humidity Level?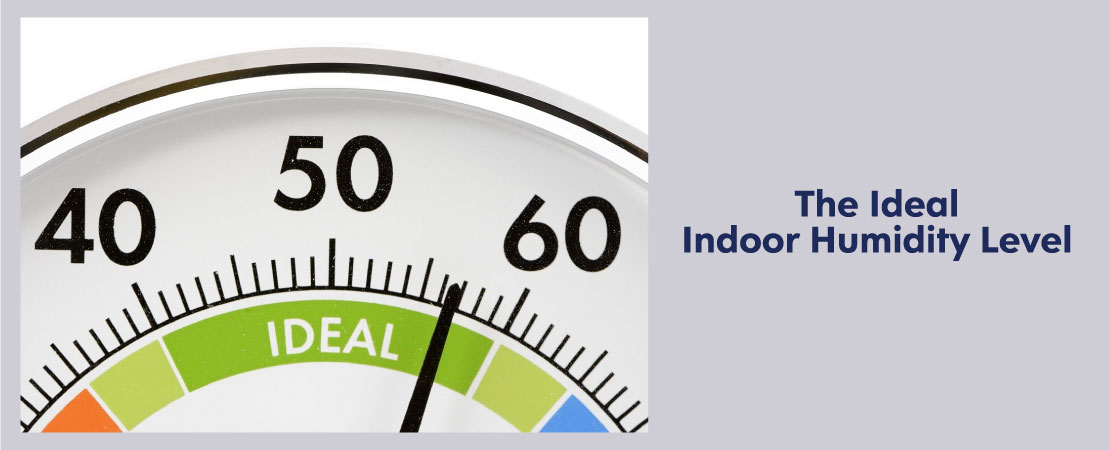 Ideal humidity levels in your homes should be between 30% – 60%. EPA (Environmental Protection Agency, USA) recommends keeping "indoor humidity below 60 percent (ideally between 30 and 50 percent) relative humidity." ASHRAE suggests a range of 45% – 55% humidity to manage health effects and illnesses. Too much moisture in the air has negative effects on your health and home. But at the same time, the absence of it can cause other problems like the easy spread of infection. Hence, it is important to maintain the ideal humidity level indoors.
Humidity Levels change with Seasons:
The Summer Air is warm & hot, it holds more moisture so the humidity is higher.
The Winder Air is cold, contains less water, so the humidity in general is lower.
Extreme Humidity Levels pose Health Hazards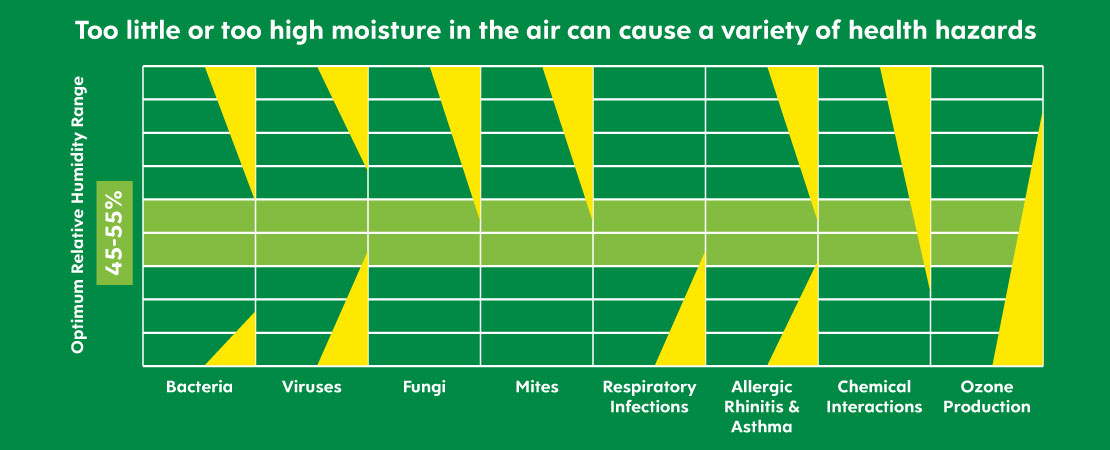 Problems caused by High Humidity:
It promotes growth and spread of mold, mildew, fungi, bacteria, and viruses. These pollutants diminish indoor air quality, cause various diseases, and also damage your home.
Asthma and allergy patients will experience worse or more frequent symptoms.
High humidity indoors causes the home to feel oppressive. You may notice visible condensation on windows and walls. Mold and mildew will cause damage to furniture and electronic equipment.
Hazards due to Low Humidity:
Dry, arid conditions irritate sensitive membranes in the nose, increasing exposure to assaults by airborne chemicals, viruses and allergens.
Cold and flu viruses, allergic attack and asthma are caused more frequently.
Asthma and allergy symptoms can worsen.
Dry skin, sore & cracked lips, and dry air passageways occur.
Dry air is damaging to properties as well. Building materials as well as furniture are devoid of moisture when the air is dry. Cracks and damage can occur to flooring, trim, and even framing around windows and doors.
Too little or too high moisture in the air can cause a variety of health hazards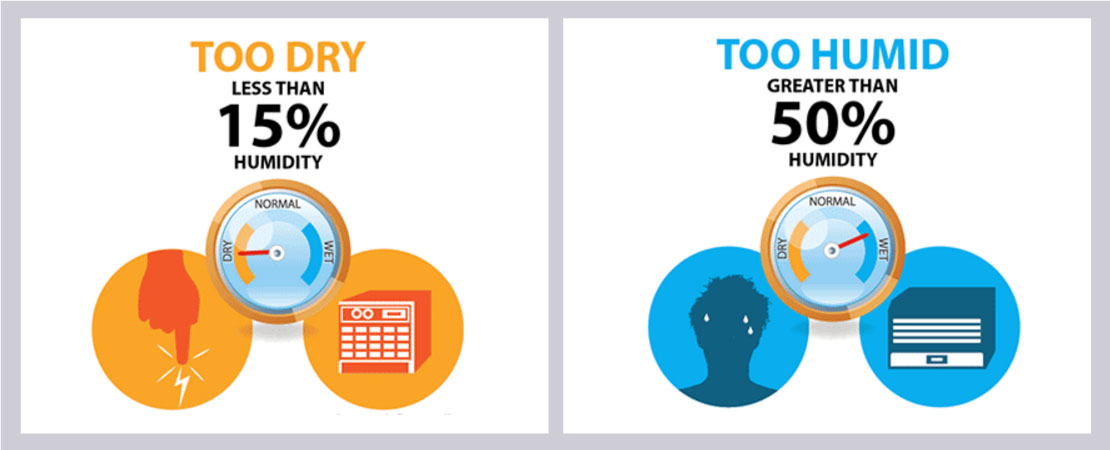 Here's what you need to know about how to deal with indoor humidity naturally.
Ventilate your room: Keep your home ventilated, especially in kitchen and bathroom areas where more moisture is likely to form. Open the windows and doors whenever possible. Let the vents and fans run for long to ensure sufficient ventilation. Having proper ventilation in your home for a few hours every day can help reduce indoor humidity.
Air Conditioning: Turning on your air-conditioning not only cools down the room but also reduces indoor humidity, especially during monsoons.
Fans: Fans help remove the warm, musty smell from the room. It increases the movement of air, thus removes excess moisture through evaporation.
Replace AC Filters: Air conditioners are great appliances for preventing humidity. With time the filters of such machines get clogged and prevent the flow of air, enabling humidity. Regular cleaning of AC filter units will increase airflow & reduce humidity.
Take shorter or colder showers: It is advisable to take shorter & colder showers because hot and long showers produce a lot of excess steam that exposes homes to moisture and heat. If excess moisture accumulates in the bathroom due to hot showers, open the window or turn on the exhaust fan after your shower.
Line dry clothes outside: Hanging wet clothes indoors will increase indoor humidity levels if there is poor ventilation in the house. It is recommended to hang clothes to dry outdoors, especially during summers.
Clean your rugs often: Rugs are often overlooked, but they tend to collect moisture, especially when humidity levels are high indoors. If you notice your rug is getting damp or smelling musty, send it to the dry cleaners regularly to get it cleaned.
Repairing cracks and gaps: Walls that have cracks or holes can invite unwanted moisture indoors. Warm, moist air can seep indoors through cracks and holes during a warm, humid climate. It can cause condensation indoors. If the condensation is not eradicated, it can cause rotting wood, microbes, and mildew. Hence, regularly check for cracks and crevices on the walls and fix them at the earliest.
A basket of charcoal briquettes: Charcoal briquettes2 can help remove humidity and even odours from the air circulating in the house because of their absorption properties.
Alternatively, when the humidity is low, mechanical humidifiers can be used to add moisture to the air. Probably, the simplest method of having good humidity is to have indoor plants, plants are natural humidifiers. In dry conditions, misting the plant leaves regularly will help.
It is important to remember that a little humidity indoors is desirable, so don't take dehumidifying measures too far.
By observing the pointers listed in above and continuously monitoring humidity levels inside your home, you can create a healthy and comfortable living.