Not all soft objects are soft on your kid's health. Know the hazards of soft toys and how to protect your child without stealing the smile on their face.
Teddy bears, bunnies, and all types of cute-looking soft toys that most of our little ones are obsessed with becoming an easy choice when we think of giving them a present. The way they cuddle them or talk to them makes them worth it for any parents. These soft toys become an essential part of their childhood. Why only kids? Some of us don't want to part with them even when we get older. These toys become an integral part of our childhood memories. However, the bright, cuddly teddies and Disney character-based toys that you give your little ones as gifts are not as safe as they look like. Such stuffed toys have mostly failed the testing survey of the Quality Council of India. Nearly
67%
of the imported toys were unable to pass the test. The QCI conducted the test on the toys available in the Delhi NCR market and found them to have some elements that are majorly harmful for children.
Soft Toys: Not Just Objects Of Fun But A Potential
Health Hazard
Soft toys are manufactured using a number of chemical compounds. Each of these compounds is capable of causing potential health risks. In fact, the artificial fur fabric (mostly toxic polyester- based) that is used to make stuffed toys can cause allergies and choking incidents in small children.
Following are some of the soft toy substances that have short to long-term effects on kids' health:
Dyes and pigments are common chemicals used in toy making. It usually involves the usage of a toxic chemical named Aniline. Infants and small kids have a habit of putting things in their mouths. There is a high chance that they might put these soft toys in their mouth, eventually coming in contact with these harmful chemicals.
Fire retardants are substances used to check the spread of fire. Almost every soft toy contains it. These substances are highly toxic and can cause hormonal changes in kids.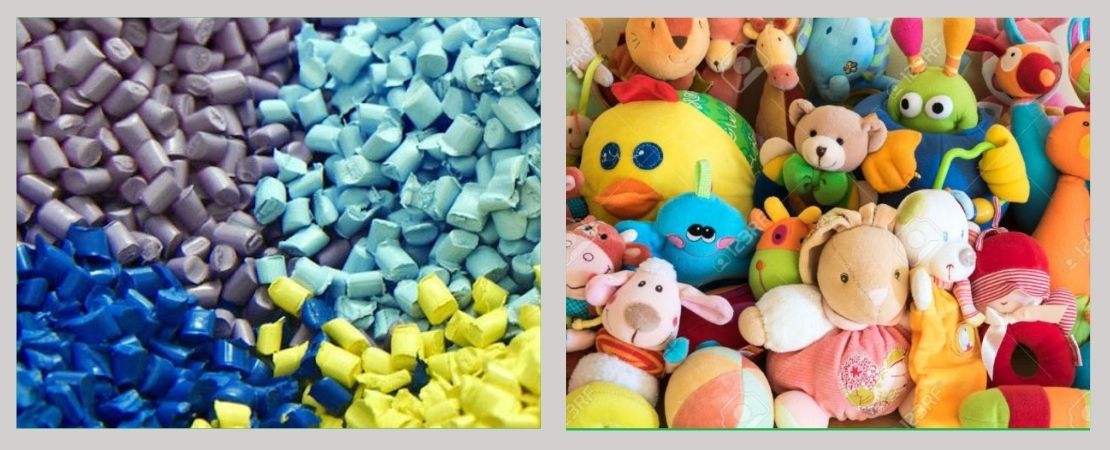 Plasticizers are substances that make your toy flexible and soft. These chemicals change the sharp ends of the toys. It is to ensure your child doesn't injure themselves while playing with it. Plasticizers contain phthalates. Nearly
45%
of soft toys failed on the acceptable levels of phthalates, a group of carcinogenic chemical compounds. 85% of these toys are imported from China, followed by Sri Lanka, Malaysia, Germany, Hongkong, and the USA. The harmful carcinogenic chemicals present in the toys can cause skin damage, respiratory disorders, allergies in children. Phthalates are also known to disrupt the hormonal system of your child and can retard their mental development. PVC is the cheapest available plastic and hence is used widely for the production of toys. These have tested positive for
lead and cadmium too
.
Wrinkle-Resistant Material
Formaldehyde is a wrinkle-resistant material used in soft toys to prevent any wrinkles on them. However, formaldehyde causes hypersensitivity in kids and creates irritation on the skin and mucous membranes.
How Will You Save Your Child From The Health Risks Posed By Soft Toys?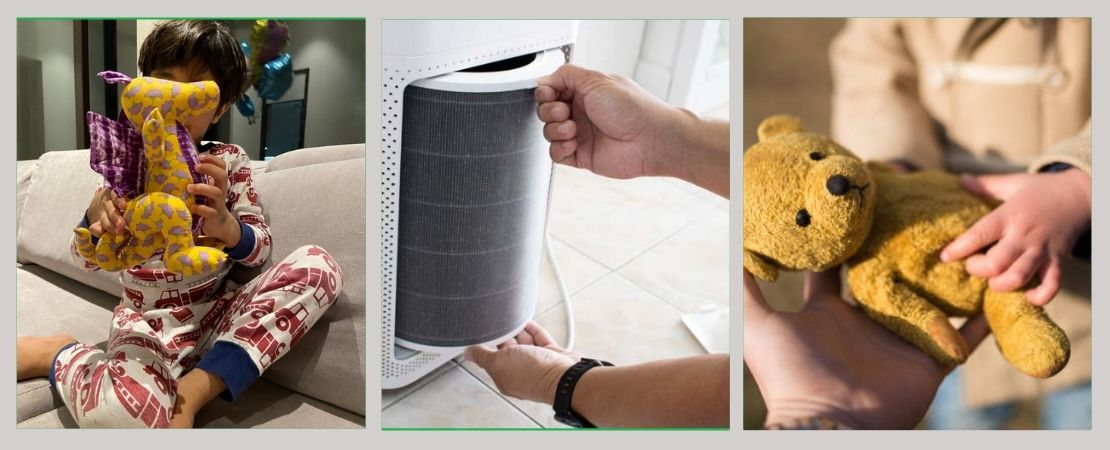 Your children are much more sensitive to health risks as they are in their early stages of development. It makes them more susceptible to diseases. Several harmful chemicals are used for manufacturing soft toys, having grave health consequences on your child. Continuous engagement with these soft toys can prove fatal. Many parents stuff their child's room with soft toys. It is also a raging form of children's room décor. However, try replacing them with some other alternative as soon as possible as these toys are also sources of indoor air pollution. It is not easy to keep your kids away from such toys. What is essential and effortless is making them enjoy using these soft toys and gradually taking their addiction.
Another effective solution is to install an air purifier with HEPA filters. These filters are effective in reducing indoor air pollution and elevating the air quality. Make sure that your child doesn't develop the habit of chewing the soft toys. You need to be vigilant in such a situation as when chewing; the chemicals enter the system even more quickly than inhaling them. You can also decide on a particular time for your child to play with their soft toy. This way, you can reduce the exposure time and proximity of your child with these toys.
The Government's Steps Toward The Issue
As per the reports of QCI testing, the amended notification of the Directorate General of Foreign Trade dated December 2, 2019, has made consignment-based testing mandatory for any imported goods. If they fail the quality testing, the consignment would either be destroyed or sent back to the manufacturer.
However, this rule is applicable to only imported soft toys. What about the soft toys that are manufactured locally?
As buyers, as parents, we need to be extra observant while purchasing gifts for our children. We should not buy soft toys that are not made with non-toxic non-polyester fabric. In an attempt to see a smile on their face, we should not put their health at risk.