The Ladakh Air Purifier simple and low-cost, yet powerful and effective. The Ladakh's huge fan sends high volumes of air through a large HEPA filter, effectively cleaning large spaces.
Room Size coverage: Cleans a 85m2 room in just 25 minutes.
CADR: 340 – 585 m3/hr
Noise level: 43.7 – 52.5 db
Hepa lifespan: 10 – 11 months
Dimensions (cm): 57.5 × 33 × 63 (LxWxH)
Recommended Room Size (sqft): Upto 900
Power Consumption (W): 64 – 82
Power Supply: 220 – 240V/50-60Hz / Plug Type: I
Safety Certifications: CE Certified (LVD/EMC/RoHS) | GB/T 4706.45 – 2008 Certified
1 × Ladakh Mini (includes 1 × Ladakh Mini HEPA Filter), 1 × Wire cord, 1x × Smart Air Handbook
Box Weight: 20 kg
Air purifiers for the COVID-19 Virus?
Air purifiers with HEPA filters like Smart Air's can filter the COVID-19 coronavirus. Learn how HEPA air purifiers filter viruses.
Compact yet Strong. Perfect for homes, offices, and clinics.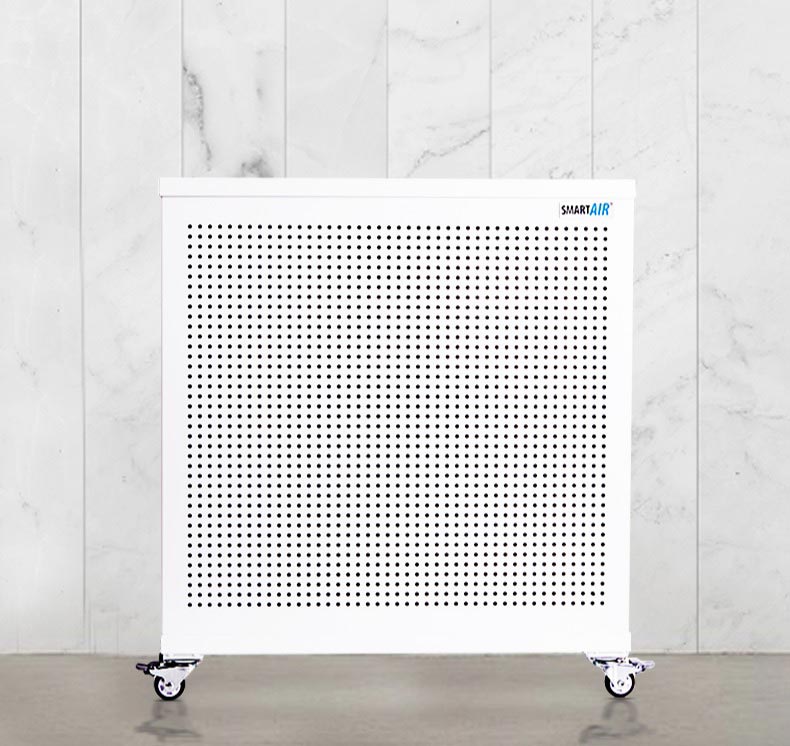 The Ladakh Mini is a compact, high-airflow air purifier that uses an aerodynamic design and industry-standard H13 HEPA filters to provide high volume purification for large spaces.
Protect yourself against India's air pollution with this office air purifier.
How the Ladakh Mini protects you from Delhi pollution
India's air pollution is a serious problem. Even after the COVID-19 lockdown had reduced air pollution, Delhi air still remained above WHO limits.
The Ladakh Mini's 3-stage filtration effectively traps dust, mold, pollen, and PM2.5 – the main cause of air pollution.
The Ladakh gives out as much clean air as 2.2 Blueair 203s in a minute
That's a whole load of clean air!
If it's more powerful than 2 Blueairs, it must be loud as heck, right?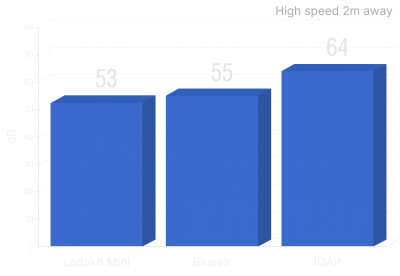 It's actually quiet. Think of it as the strong, silent type.
A huge fan and an oversized HEPA means that more clean air can be pumped out at lower noise levels. You'll hardly notice while it's running.
Cost-effective clean air, with the Ladakh Mini air purifier.
Air purifiers are simple tech. We've refined the Ladakh Mini air purifier to ensure it's giving you the most bang for your buck. That means more clean air for every rupee you spend. Here's how it compares to other air purifiers.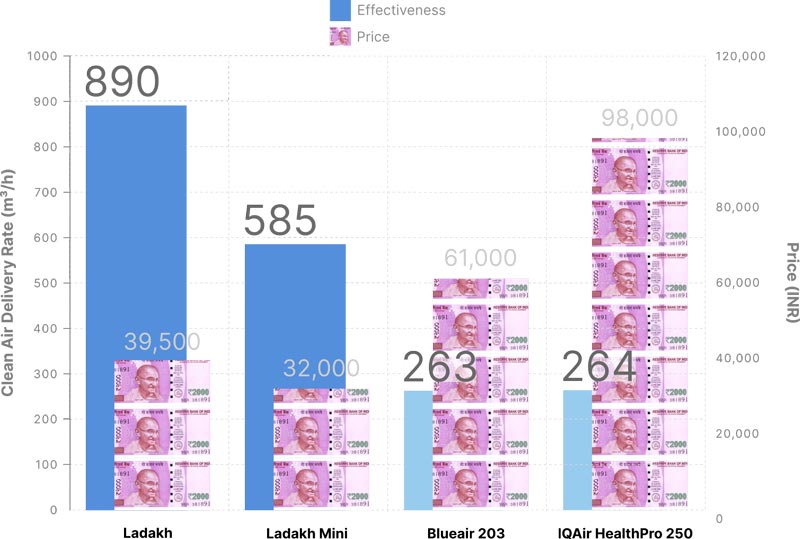 How can the Ladakh Mini give so much performance?
Alright, alright, we staged this photo. But aeronautical engineer Paddy really did run over 200 tests on noise, particle capture, wind speed, and power usage. That's how it can be strong and yet quiet.
MyFreshAir.in has days and days of raw room test data for the nerd curious!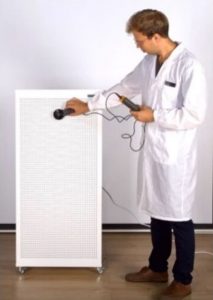 Chosen among 10 different tested HEPA materials. Effectively filters 99.95% of PM2.5, dust, pollen and viruses.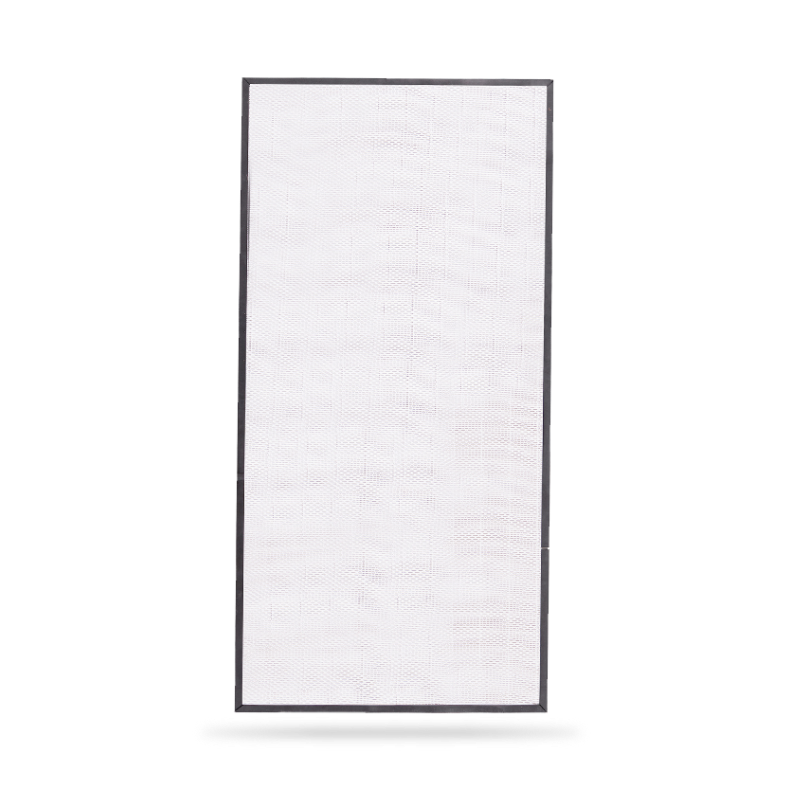 Ladakh Activated Charcoal Filter
Add a carbon filter to your Ladakh Mini if you need to remove odours. Absorbs formaldehyde, volatile organic compounds (VOCs), and other harmful gases.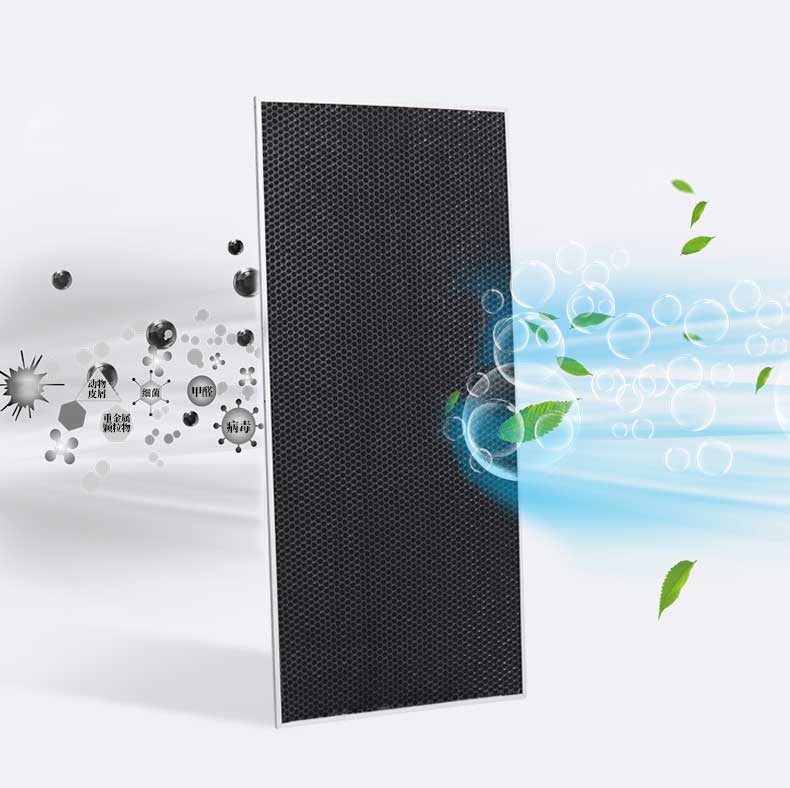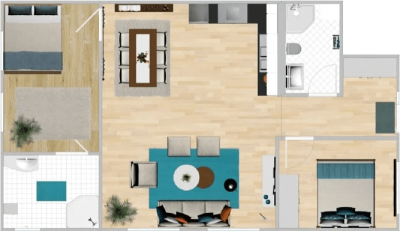 The Ladakh Mini is half the size of the Ladakh and is ideal for normal-sized apartments with about 4 rooms.
What's inside a Ladakh Mini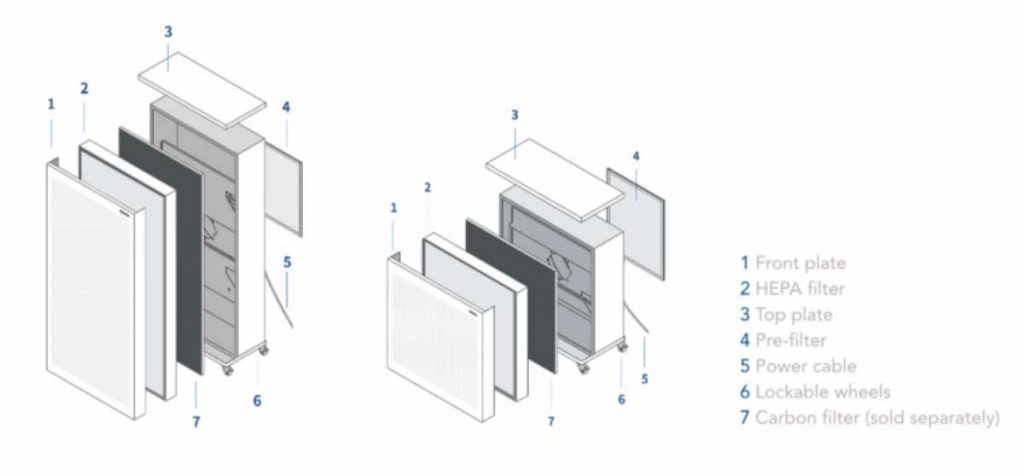 Purifier companies can make obscene profits when most people don't understand how purifiers work. Here's the honest truth: a purifier is a fan + a filter. In this case, that fan and filter are just really big.
Shipping options: Available all across India